Spring just got a lot easier!
I will admit that there has been so much happening at the ICS that I have been feeling a little overwhelmed over the past few weeks; so much so that this newsletter is now being issued a month later than planned.  Perhaps it is just as well as this allows us to keep you informed of the very latest happenings at ICS.
Whilst we Celebrate 20 years of ICS in South Africa this is also a celebration in South Africa marking 20 years of Democracy.  Our heritage month, in September is shared with the celebration of World Maritime Day.
As mentioned during our week of celebration, it is vital to see the important role that our Industry plays in our Heritage.
I anticipate that things will quieten down a little as we head towards year end allowing us to enjoy the warmer weather and rejoice at hopefully seeing the end of winter.  
Natasha Vaughan FICS
---
November 2014 Exams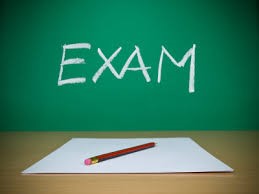 There has been a lot of activity around the second Exam sitting in November this year. Deadline for registration is 10 October, so please contact the ICS SA office if you have not yet registered. Exams will be held from 24-27th November with results being released on 5 February 2015. Exams will be open to both new students and those who wish to re-sit exams.
---
April 2014 Exams and Student Prize giving
This year was another year of record success for our students, with more students than ever before registering to sit exams. There were 2633 students registered internationally for 6146 exams in 106 exam centres.
On 18 September we celebrated our students efforts and achievements across a wide range of subjects.  Our Prize giving is an acknowledgement of the hard work of all students and especially those that have achieved outstanding results.
Our Prize winners are a true representation of all we encourage at the ICS.  In addition, we are very proud of the two students that achieved the highest marks internationally in their exams; they are a credit to our Branch and an inspiration to us all.  A special Congratulations to Serena Robson and Tanya Henry who will be attending the International Prize giving in London on 24 October.
At Executive Council on 22 September, two South Africa members were promoted to FICS; congratulations to Tim Hastie and Lawrence Buckle.  We also welcome and congratulate 3 new members to the ICS; Shabir Dawood, Gillian Ward and Lancelot Magebeni.
---
20 Year Anniversary Celebrations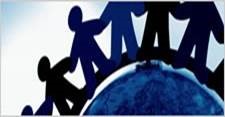 Our Branch was very honoured to have Bruce Ogilvy, the Vice President of the ICS, join us for a week in South Africa. Bruce started his trip with luncheons in Johannesburg and Cape Town before arriving in Durban for the Cocktail Event and Student Prize giving.
Our busy schedule was drawn to a close with a farewell lunch at Tala Game Reserve on Saturday afternoon. The luncheons in Johannesburg and Cape Town were a great success and a good opportunity to meet with students and members in these centres.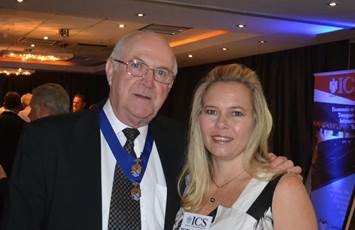 Bruce also met with FTW in Johannesburg and an article appeared in the 26 September issue endorsing the High Tide Foundations initiative to encourage employment within the shipping industry. The ICS SA will continue our work on improved education and enchancing employment opportunities for young people in the maritime field and work diligently to encourage awareness relating to Maritime Studies. We are aware that it is essential to embrace new developments and so we will focus on improving our relationship with the Department of Education to ensure that the leaders of tomorrow who consider our industry as a viable career option, are suitably qualified.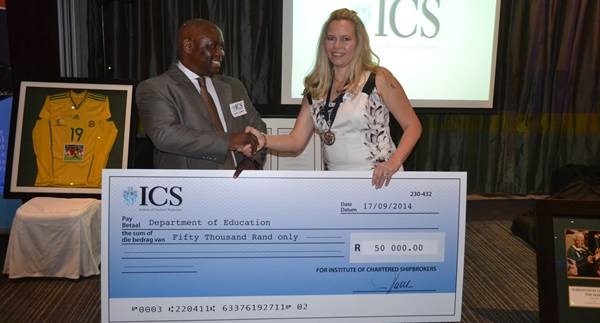 Whilst we celebrate the SA Branches 20th anniversary this month, we have offered a donation to the value of R50 000 to the Department of Education, represented by Dr Enock Nzama, Senior General Manager.
The funds are to assist with training Educators in Maritime Economics which is currently taught in schools in KZN.
(Please have a look at our website to view these pictures, videos and press releases)
---
The Roles and Responsibilities of the Ship's Agent (by courtesy of FONASBA) – The Helmsman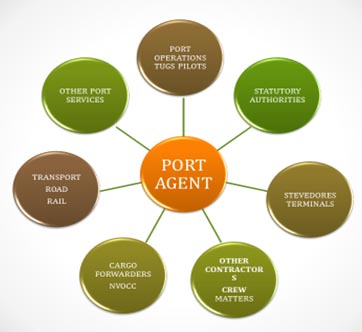 Established in 1969, FONASBA is the global association for ship brokers and ship agents.  With members in more than 50 maritime nations, the Federation's remit is to 'promote and protect the profession of ship brokers and ship agents worldwide', an obligation it discharges through actions in relevant international and regional bodies and organisations and by supporting its members on matters of a national nature.
FONASBA makes no distinction between those providing agency services as their main business activity or as a part of a portfolio of marine related services.
The main categories of ships agents are:
–    The Port Agent
–    The Cargo Agent
–    The Owners or Charterers Agent
–    The Protecting Agent
In this issue of our newsletter we will have a look at the Port Agent.
The Port Agent is central to all trades and is responsible for organising, overseeing and co-ordinating all aspects of the port call, from booking berth allocations and services ahead of the vessels arrival, to finalising the accounts and other paperwork after the vessel has sailed.
The agent is the conduit for all information exchanged between the vessel and the shore. In fact the port agent is the hub around which the ships port operations revolves and holds a position of paramount importance. The port agent is primarily the servant of the master and owners, or disponent owners of the vessel, the 'Principal'. FONASBA's Port Procedures Survey has identified more than 130 separate operations that a port agent may need to undertake.  We will look at some of these operations and the roles of the other categories of ships agents in future newsletters.
---
Diary of  a Vice President – Bruce Ogilvy, FICS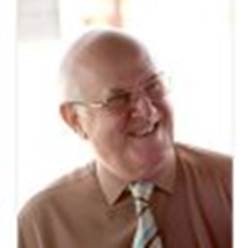 Sunday 14th September:
I arrived in Johannesburg  on Sunday evening from London and hit the road running as I was expecting to catch up with old friends, make new ones and meet many students as well as talk to the students in a school in Durban.
Monday 15th September:
The morning saw me meeting with a report from FTW to discuss the ICS and the launch of High Tide South Africa.  We followed this with a great lunch with members, students and sponsors.    
Despite being some 600km from the sea thre is a very strong demand for the ICS courses and examinations.  
After lunch I was taken off to the airport for a flight to Cape Town where I stayed at a really beautiful guesthouse at Bloubergstrand which was right on the sea front where I could watch the surf breaking on to the beach.  As a retired mariner, this location was an inspired choice.
Tuesday 16th September
I met up with the Branches Education Officer, Rob Gardner, we firstly took me to the School of Shipping to meet Jacqui Merrington where we discussed how the school and the ICS could work together in promoting the ICS courses. Lunch at the Royal Cape Yacht Club was a great opportunity to meet more members, students, sponsors and ICS tutors.
Wednesday  17th September
An early departure from Cape Town enabled me to reach Durban by late morning and in time to be met by Senzo Nxumalo  who took me directly to Nhlanhlayethu Secondary School. We had a question and answer session followed by interviews to assist the students.  A really enjoyable session which I shall remember for a long time to come.
Wednesday evening was the big event, the 20th Anniversary of the SA Branch of the ICS plus the launch of High Tide South Africa.  What a great evening with many honoured guests, ICS members, sponsors and students, the atmosphere was electric.  It was an opportunity for me to say a very big thank you to all ICS members, old and young, who have helped to make the SA Branch of the ICS one of our most successful and proactive branches.  It was also an opportunity for me to present and ICS plaque to mark the occasion.
Thurday 18th September
Another block busting event, the annual prize giving, where successful students were presented with their certificates.  What a great occasion this was for all who attended and to see so many students in the same room at the same time made me realise that most will be the next generation of shipping executives.
Congratulations to all of you whether you passed or failed as the exams are not easy.  To those of you who failed, please try again and never, never give up.  Remember education is power and professional education allows better jobs and better prospects. Thursday evening was a private dinner with our International Chairman Capt Richard Brook-Hart and an opportunity to discuss the wider issues facing the ICS in this difficult environment that we are living in today.
Friday 19th September
I had a particularly interesting time attending your local Branch meeting where many items were discussed of mutual interest.  Whilst many Branches around the world have similar problems, it gave me an insight into some of the local issues and the problems that your branch is facing.
Saturday 20 September
An opportunity to unwind and relax a little with a morning visit to Tala Game Reserve.  Outdoors in the fresh air and the wide open spaces, this cannot be beaten in my book!
Early Saturday evening I boarded my flight back to London and had an opportunity to reflect on my week.
I left London for Johannesburg with high expectations of an amazing and exciting week ahead and how I was rewarded.  I returned home having enjoyed so much the opportunity of meeting ICS members, Tutors, Students, their Sponsors, professionals who have the same vision as I have and the boys and girls from Nhlanhlayethu Secondary School who were an absolute delight and who could in a few year's be joining us in the shipping industry.
I will have lasting memories of my visit to South Africa and thank you Natasha and your team for making all the arrangements and for making me feel so welcome, it was truly and enjoyable and satisfying visit.
---
Lindau Lighthouse – Tim Hastie FICS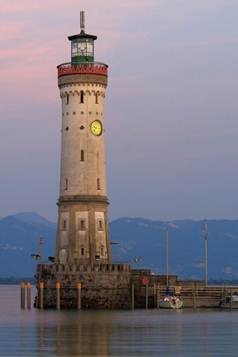 The southernmost lighthouse in Germany, the Lindau Lighthouse is located on Lake Constance, Lindau.  The Bodensee, often called Lake Constance in England, is a large lake at the extreme southern end of Germany.
The Rhine River passes through the lake as it leaves Switzerland and begins its course northward through western Germany.   The lake is an international waterway; its northern shore is in Germany, the southern shore is in Swizerland and the eastern end of the lake is in Austria.  Navigation is limited to pleasure craft, ferries and excursion boats.
Historically all three countries had lighthouses on the lake.  In German, a lighthouse is a Leuchtturm ("light tower").
It was completed in 1856, when it took over the ports previous light station in the Mangtrum Tower, constructed in 1230.
The 108 foot tall structure is quite unique among lighthouses because it also houses a massive clock that can be viewed from the city.  During the first years of operation the light was created by an open oil fire.  At the time the keeper would steadily have to keep the fire burning in great pans and operate a bell and foghorn.  The firing was later converted to kerosene and then gas.  The light caharacteristic is one flash every three seconds which is created by two rotating parabolic reflectors.
The tower was converted to electricity in 1936 and automated in the early 1990's.  It is open to visitors and provides information on local nature and the city's shipping industry.
---
NAU Pte Ltd Newsletter
NAU is a claims consultancy firm based in Singapore and M Jagannath, FICS, is the author of many interesting articles that are published in their newsletter. The following two may be of interest to our students and have links to the full articles on "Electronic Bills of Lading" and "Shipped on Board Date". http://www.nau.com.sg/newsletter.php